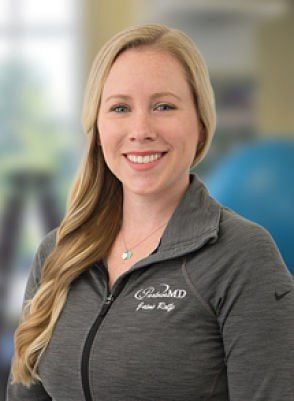 Breast Cancer Screenings: The Basics
Breast cancer screenings are so important in minimizing your risk and potentially catching something early. In this video, Midlothian health coach Jaime Monsen provides an introduction to breast cancer screenings and what you should be thinking about. Watch the video below and read on for the transcript.

Before I get started, I just want to let you know, as I kind of dove in and looked at different organizations on guidelines in general, I kind of noticed each place was slightly different. So I did get a recommended site for us today. And the site I used is called U.S. Preventative Service Task Force. This website in particular has tons of recommendations, not on just breast cancer and breast exams and testings and things of that nature.
So if you want to learn a little bit more or get some of these handouts that I used as a general guidelines to give you today, you can print out a lot of resources for you so that you can get a little bit more than what I probably will be providing. So if you want to dive in, feel free.
Keep in mind, even though I'm going to give you recommendations and the general guidelines, it's really important that you are sitting down with your physician, with your specialist, whoever you have to go over where you are, you know, what is your health background? What are your current medical risks? What's your family history? And what are you comfortable with with these guidelines and have that open dialogue so that you guys can make the right decision together, but I'm going to go ahead and just kind of give you some information on mammograms.
Mammograms
So these are the more common screening that women will have. The most beneficial age group is going to start at 50. So 50 to 74 is the recommended number for that, for the highest benefit, however, starting in your 40s, you can also get regular mammograms as well. So if you're not sure if this is something you want to do, not want to do, this is where you need to have that conversation with your physician. So you both can make a decision what's best for you and your health.
The recommended time, it used to be annual. We are now hearing every other year, so you don't have to go in every single year. They kind of changed this a little bit as far as the benefit to your health, but both sides from what you're getting screened, but also your risk and your exposure as you're being tested.

So take a look at those and also take a look at what your physician recommends. I also recommend to take a look into your insurance, making sure that you understand any fees you could occur, how your doctor charges, the facility of which you're going to do, they charge differently so make sure you're doing your homework on that prior to. You can call the facility or even just your insurance company, so that you understand any costs that they may be associated with that.
Self Breast Exams
The other last piece I want to talk about with self breast exams. Most women are familiar with this is to do these on a monthly basis at home. So this is something you would conduct in the shower, lying in the bed, or maybe just standing in front of your bathroom mirror after the shower. The recommended age starts about 20 and older.
However, there's a little bit of changes on pushing these now to just creating too much fear and anxiety and stress of being tested. And it's not wanting to overwhelm you or thinking you find something. So have that conversation with your doctor or your OB, whoever it is, and talk about those self exams at home and just see what their feedback and thought is and where your comfort level is as well.
October is National Breast Cancer Awareness Month.
About 1 in 8 U.S. women (about 12%) will develop invasive breast cancer over the course of her lifetime. For men, the lifetime risk of being diagnosed with breast cancer is about 1 in 833 (or about 1% of all breast cancer cases).
PartnerMD is doing our part to help. All month, we'll be sharing articles, posting on social media, and sharing wellness videos from our health coaches to help you reduce your risk for breast cancer.
Tune in Tuesdays at 1:00 pm for a quick video (available on Facebook, Twitter, LinkedIn, and YouTube, as well as right here on our blog).
All this activity will culminate in a PMD Conversation on breast cancer, taking place on Facebook Live Oct. 29 at 1:00 pm. Click here to submit a question for our docs.