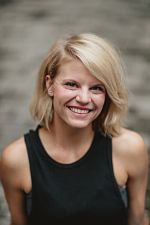 Friday Morning Workouts: Pull Up a Chair with Lindsey Patton
Lifestyle & Wellness | Facebook Live Recap | OptimizePMD | Wellness
Another Friday, another opportunity to end your week strong with a workout routine you can do from the comfort of your home. In this workout, Richmond health coach Lindsey Patton demonstrates three types of exercises you can do with just a sturdy chair. Watch the video below and see below for the full list of exercises.
SET 1 - 3 rounds. Focus is on getting your heart rate up.
25 jumping jacks
15 air squats - butt to chair
30 jump ropes
10 split squats - Feet on floor OR back foot on chair
SET 2 - 3 rounds. Feel the burn.
10 curtsy lunges -- 5 on each side
10 tricep dips
10 arched leg raises - 5 on each side
10 push-ups - can do on ground, chair, or against the wall
SET 3 - 2 rounds.
Core + back.
10 seated v-sits
10 alternating side crunches - legs wide
10 seated crunches - keep a flat spine
10 glute bridges - feet on chair
Looking for more workouts? Check out these videos: