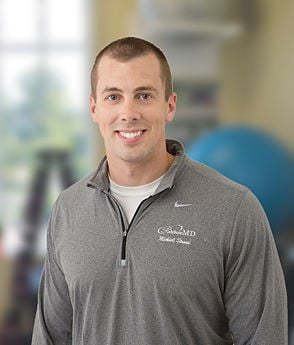 OptimizePMD: Functional Exercise for Everyday Life with Michael Stroud
Functional training is what will help someone maintain their lifestyle for years to come. In this video, Health Coach Michael Stroud, from our Richmond location, demonstrates a basic full-body routine utilizing light dumbbells focused on the muscles needed for daily life, such as unloading groceries, running a vacuum, or taking the stairs with ease.
This is a workout anyone can do, even at home, for strength building and maintaining muscular function. Participants will gain the knowledge of how to work all the muscle groups without risk of injury. While applicable to anyone, this class is particularly beneficial for seniors or someone just starting their fitness journey. Watch the video below, and read on to get the complete list of exercises.
(Having trouble getting the video to play? Get troubleshooting tips here.)
All exercises are 3 sets of 10 repetitions each (if you are a beginner, start with 2 sets.)
Squat
Step ups (10 each leg)
Push-up aviation
One-arm dumbbell row
Shoulder press or lateral raises
Dumbbell curl
About OptimizePMD
OptimizePMD is a new wellness program under development at PartnerMD. By emphasizing various exercise strategies and explaining the science behind them, OptimizePMD will help participants achieve and maintain optimal physical performance at all stages of life. Check out more OptimizePMD content here. More information coming soon!