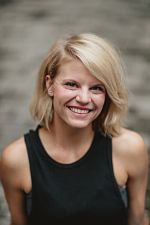 OptimizePMD: How to Improve Your Posture Using a Yoga Strap
Whether you're in front of the TV or at your desk at work, you could be developing poor posture. One way to work on your posture throughout the day is to use a yoga strap. In this video, Richmond health coach Lindsey Patton shows you how. Watch the video below and read on for directions.
Directions: How to Improve Your Posture Using a Yoga Strap
Get a yoga strap that's at least 10 feet long (a rope could work as well, or two yoga straps tied together).
Find the center point of the strap and put it behind you in the center of the back.
Take the straps in front of you. Cross them, and then place them over your head (go underneath the "x").
Pull down on the straps, so they are right on the front of your shoulders. This will create a little bit of tension.
Bring the straps back in front of you and tie in a knot. It should look like a jetpack.
About OptimizePMD
OptimizePMD is a new wellness program under development at PartnerMD. By emphasizing various exercise strategies and explaining the science behind them, OptimizePMD will help participants achieve and maintain optimal physical performance at all stages of life. Check out more OptimizePMD content here. More information coming soon!