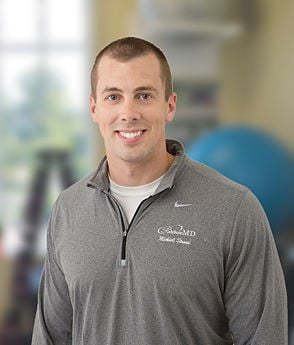 OptimizePMD: Post-Workout Nutrition Strategy
You're committed to consistently working out. Maybe you have some weights at home. Maybe you joined a gym or hired a personal trainer. Whatever the case may be, you're looking to maximize your efforts. That includes eating the right foods after you workout, so your body can use that food as fuel as best as possible.
In this video, Richmond health coach Michael Stroud how you should approach your post-workout nutrition strategy. Watch below and read on for a recap.
Post-Workout Nutrition Strategy Tips
It's not much different than pre-workout nutrition. You're looking for a protein, a carb, and a little bit of a fat source.
Don't go heavy on the fat source, because your body is trying to recover, so you don't want anything to happen.
Depending on what your goals are, you'll establish a ratio of proteins to carbohydrate.
If you're an athlete or doing strength training, you'll want to increase the ratio so that this becomes your biggest carbohydrate meal of the day. This will help you recover and make your next workout that much better, otherwise your body will still be trying to recover and you won't be able to do the same volume the next time.
If you're not used to eating directly after a workout, start simple with something like a protein shake and a fruit before progressing to full meals.
Most people don't do well eating immediately after a workout. If this is you, give yourself 20-30 minutes to cool down.
If you've heard the old strategy of having to get food within 30 minutes after a workout, it's not true. As long as you're within an hour and a half, you should be fine.
About OptimizePMD
OptimizePMD is a new wellness program under development at PartnerMD. By emphasizing various exercise strategies and explaining the science behind them, OptimizePMD will help participants achieve and maintain optimal physical performance at all stages of life. Check out more OptimizePMD content here. More information coming soon!