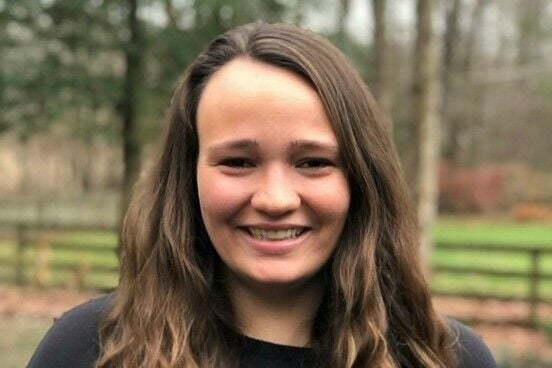 Summer Vacation & Diet: How to Eat Healthy While Traveling
Lifestyle & Wellness | Facebook Live Recap | School of Metabolic Health | Wellness
Summer vacation is about indulgence. You want to treat yourself on a hard-earned vacation. For many of us, the hard part is finding the right balance between healthy eating and indulgence.
Indulging a little on your vacation is acceptable as long as you indulge responsibly. Balance treats with these easy summer diet tips to make sure your health stays on track all summer long.
Start with a healthy mindset.
Every good plan starts with the right mindset. Be intentional about your health goals on vacation. Decide before you pack your suitcase what your intended outcome will be. For example, you may make it a goal to exercise every day or you may try to maintain your weight while away from your usual routine.

Keeping your goal front of mind helps when deciding between a cucumber water and a pink lemonade while you're at the pool.
Plan for your health goals before you travel
You spent months planning your summer vacation — now take a little extra time to plan for your meals and summer diet while you're gone.
First, think about your travel plans. Are you driving or flying?
Healthy Eating While Traveling by Car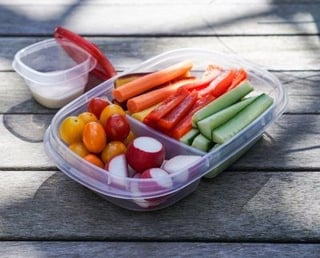 If you are driving you can easily pack all of your essentials in a cooler for the trip. A few healthy suggestions include:
Combine a protein source like beef jerky without added sugars with a complex carbohydrate like sliced raw veggies for a snack to keep your hunger in check and your blood sugar stable.


Get your crunch fix with healthy unsalted nuts like almonds or cashews. Make sure to portion these snacks in advance to avoid overdoing it.


Fresh fruit, like apples, oranges, and bananas are easy, healthy snacks that can curb your sweet tooth on the road.


Cheese sticks are full of protein and an easy snack to pack.


Many times we snack in the car to stay alert, but a stop for a good stretch and breath of fresh air can clear your head without the extra calories.



Drink water instead of sugary sodas to stay full on the road and curb cravings.
If you do have to stop for snacks, there are healthy options on the road. Wawa and Sheetz gas stations offer healthy snacks like hard-boiled eggs, fresh fruits, yogurt, and even fresh salads. Other healthy road trip options can include:

Use an app like

Yelp

or

AroundMe

to come up with a list of possible healthy restaurants options on your route.


Buffets tend to be a popular choice on a road trip. If you find yourself at a buffet-style restaurant, scan the entire buffet line before picking up a plate. Fill half your plate with vegetables and avoid the processed carbohydrates that will have you feeling tired.

Healthy Eating While Traveling by Plane
If you're flying, there are still ways to stay healthy as you travel. While the number of liquids and perishable items you can pack may be limited, there are many items you can stow in your carry on:
High-protein and high-fiber bars that are low in sugar content, like Quest bars. While these name-brand items can be pricey, many grocery retailers offer identical, less expensive store brands.



Jerky and nuts are great snacks to pack whether you are flying or driving. Just remember to portion in advance so you don't accidentally overeat.
Healthy choices once you arrive.
One of the best things about vacation can be all the new food you get to experience. However, eating out for every meal is one of the easiest ways to blow a healthy diet on vacation.
If you're staying in a rental house or hotel suite with a kitchen, have healthy meals delivered from a service like Blue Apron or consider a grocery delivery service. You can prepare a few healthy meals everyone will love in your home away from home.
If you do eat out follow these guidelines to make healthy dining choices:

Go online to scout restaurant menus ahead of time. Look for menus that feature lots of fresh vegetable options, and avoid restaurants where most menu options are fried.


Have a small protein snack, like a cheese stick or a handful of almonds, before going out to the restaurant. This will allow you to enjoy your meal while being less likely to overindulge.


Avoid sugary drinks, which have been shown to contribute to weight gain and health problems.

Let's consider how you might make healthier choices at a Mexican restaurant:
Have a small protein snack about an hour before going to the restaurant to help curb your appetite. This will also help you avoid the chips and salsa that are brought to your table!


Have water or unsweetened tea with your meal. If you do want a cocktail avoid blended or frozen drinks, which often have high sugar content.



You can still enjoy your entree and make healthy choices with grilled fish tacos or grilled chicken fajitas, and ask for sliced avocado on the side instead of rice or beans. You're eating plenty of lean protein and healthy fats while controlling the number of carbohydrates in your meal.
Can you really eat healthily and have your summer vacation?
Making healthy choices does not mean you have to lose out on summer vacation. Remember why you're on a summer vacation in the first place. Most often, it's to relax and spend time with loved ones. You can do those things without making unhealthy food choices.
Resolving to make just a few small healthy choices while on summer vacation can help you get the most out of your getaway. You'll come back with best vacation souvenir: feeling good about yourself.
Access Wellness University & Certified Health Coaches
PartnerMD memberships include access to our members-only wellness program, Wellness University, which delivers more than 70 physician-approved courses and certified health coaching targeting the 4 areas most critical to your health, including stress and sleep, brain health, nutrition, and strength and mobility.
With offices in Richmond, VA; Midlothian, VA; Short Pump, VA; McLean, VA; Baltimore, MD; Greenville, SC; and Atlanta, GA, you can experience primary care built around you, one focused on wellness and prevention to help you stay as healthy as possible, as long as possible. Learn more about health coaching at PartnerMD.