PartnerMD Welcomes Dr. Victoria Solderitch in Richmond
PartnerMD is pleased to welcome Dr. Victoria Solderitch, an internal medicine physician who will start seeing patients in the Richmond office in late September.
Dr. Solderitch becomes PartnerMD's sixth new physician since February 2021 and the fourth in the Richmond area, joining Dr. Anthony Fierro (Richmond), Dr. Eric Haacke-Golden (Short Pump), and Dr. Lindsay Sherrard (Midlothian).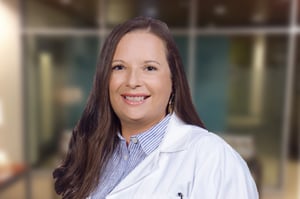 "I can't wait to get started at PartnerMD," Dr. Solderitch said. "I'm a firm believer in taking a whole-person approach, individualizing care for each patient, and working to reduce the need for medications whenever possible. That all takes time, and I'm excited to provide that level of care for patients at PartnerMD."
Before joining PartnerMD, Dr. Solderitch worked for more than a decade as a hospitalist (a primary care physician at a hospital) for various healthcare systems. That experience has equipped her with the skills necessary to provide personalized, preventive healthcare for her patients.
"I was on the frontlines taking care of dozens of patients every day," she says. "It showed me how things can unravel in life, and I always thought about what I would do if I could go three steps back and prevent the person from being hospitalized in the first place. That's what excites me about primary care."
She earned her medical degree from the Louisiana State University School of Medicine and completed her internal medicine residency from LSU's Earl K. Long Hospital in Baton Rouge, LA.
"We believe Dr. Solderitch will be a great addition to our Richmond office," PartnerMD Chief Medical Officer and Co-Founder Dr. Jim Mumper said. "We got to know her when she helped us out in our McLean office a few years ago and know she is an outstanding physician. There is high demand these days for concierge physician care, and we are pleased to be able to bring Dr. Solderitch and all of our recent additions to our members so that they can have a better healthcare experience."
Dr. Solderitch joins 12 other physicians in PartnerMD's Forest Avenue office and 20 total physicians at PartnerMD's three Richmond-area offices. As a company, PartnerMD serves more than 10,000 members in seven offices throughout Virginia, Maryland, South Carolina, and Georgia.
Interested in joining under Dr. Solderitch's care in Richmond?
Dr. Solderitch is accepting new patients. Click here to learn more about Dr. Solderitch and/or our Richmond office, including where it is located, what's included in membership, and how much it costs.
Then, fill out the form at the bottom of the page to get started. One of our membership experts will reach out within one business day to answer any questions you may have.