About Dr. Jackson
As a family medicine physician in Midlothian, VA, Dr. Jordan Jackson works closely with his patients to develop a trusted relationship, build healthy lifestyle habits, and explore what their own picture for health and wellness looks like.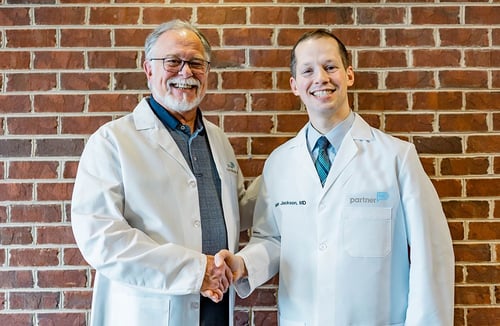 Dr. Jackson's interest in primary care sparked during his service as a Combat Medic with the Virginia Army National Guard. While deployed, he would often be the primary medical contact for service members.
"I really enjoyed the day-to-day relationships I had with our soldiers," Dr. Jackson says. "I understood their challenges, and the issues that ailed them, and that I could make a positive impact on their life. That's what made me want to pursue a career in primary care."
For Dr. Jackson, primary care is about working with patients at the intersection of their health and their everyday life.
"Health and wellness are all based on those daily lifestyle routines. I believe in listening to each patient. Diving deep into those routines and how we can make progress is key to any partnership with a physician."
Dr. Jackson is passionate about wellness and illness prevention. He cares for patients generally down to age eight, but he has extensive experience working with older individuals and those with multiple comorbidities and medically complex situations.
He earned his medical degree from VCU and completed his family medicine residency at St. Francis Hospital and Chesterfield Family Medicine.
Before joining PartnerMD, Dr. Jackson practiced at Patterson Avenue Family Practice, a Bon Secours-affiliated primary care practice.