Meet Dr. Sobel
As a board-certified internist and concierge doctor in Owings Mills, MD, Dr. Tamara Sobel focuses her care on three things: taking care of the whole person, emphasizing prevention, and building lifelong relationships.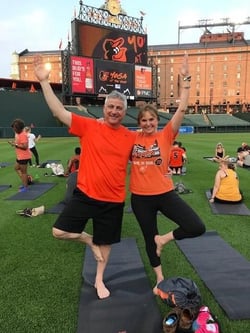 "What I love about primary care is the opportunity to build relationships with patients over time and become a part of their lives," Dr. Sobel says.
A strong believer in the connection between the body and mind, Dr. Sobel's positive, reinforcing care helps her patients find the right balance in their lives.
"My goal is to help my patients get healthy, and stay healthy," she says. "And I've found the best way to do that is to spend the time needed to build a relationship so we can discuss how you truly want to live, whether that's to be healthy enough to run a marathon, coach your child's tee-ball team, or travel the world in retirement."
How Dr. Sobel cares for her patients stems directly from the influence of her father, an old-time family doctor who practiced medicine until he was 93.
"I can't speak about my interest in medicine without talking about him," she says. "He took care of generations of patients, many of whom still keep in touch with my family. He believed strongly in holistic care, as I do today, and I remember him telling me when I was 4 years old that girls could be doctors, too. Hearing how he cared for his patients definitely influences my care today."