PartnerMD Welcomes Dr. Elizabeth Bigelow As A New Physician
PartnerMD is excited to announce the hiring of Dr. Elizabeth Bigelow as a physician in the Richmond office. Dr. Bigelow is a family medicine physician who treats patients throughout the various stages of life, from children to the elderly.
Dr. Bigelow joins PartnerMD from the McGuire Veterans Administration (VA) Medical Center,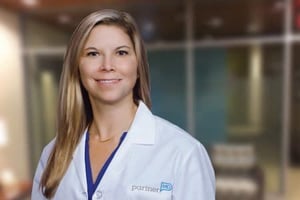 where she worked as an attending physician for primary care. She also previously worked for nearly eight years at Patient First, including three years as the medical director for their office in Short Pump. She began her career as a staff physician at Family Physicians of Chester.
Dr. Bigelow played women's basketball at VCU from 1997 to 2001. It was there, while awaiting surgery on a broken finger, that she discovered her passion for medicine.
After shadowing the team doctor during her final years as a Ram, she obtained her medical degree from the VCU School of Medicine. She then completed her residency in family medicine at Bon Secours St. Francis Family Medicine in Midlothian.
Dr. Bigelow is excited to join a concierge medicine practice that will allow her time to develop long-term, meaningful relationships with her patients.
"I enjoy the continuity of care I get with my patients and their families," she said. "I get to know them on a personal level, learn what truly makes them happy, and work with them to make sure their health allows them to achieve their goals."
Thanks to her days as a former collegiate athlete, Dr. Bigelow stresses the importance of preventative care, including consistent exercise and smart nutrition habits. She stays up-to-date on diet and nutritional information, so she can offer her patients the best clinical advice on the latest trends.
Dr. Bigelow lives in Midlothian with her husband and three children. Outside the office, if she isn't playing pick-up basketball, you can probably find her watching sports and spending quality time with her family.
Visit our "getting started" page to request a free consultation with Dr. Bigelow.