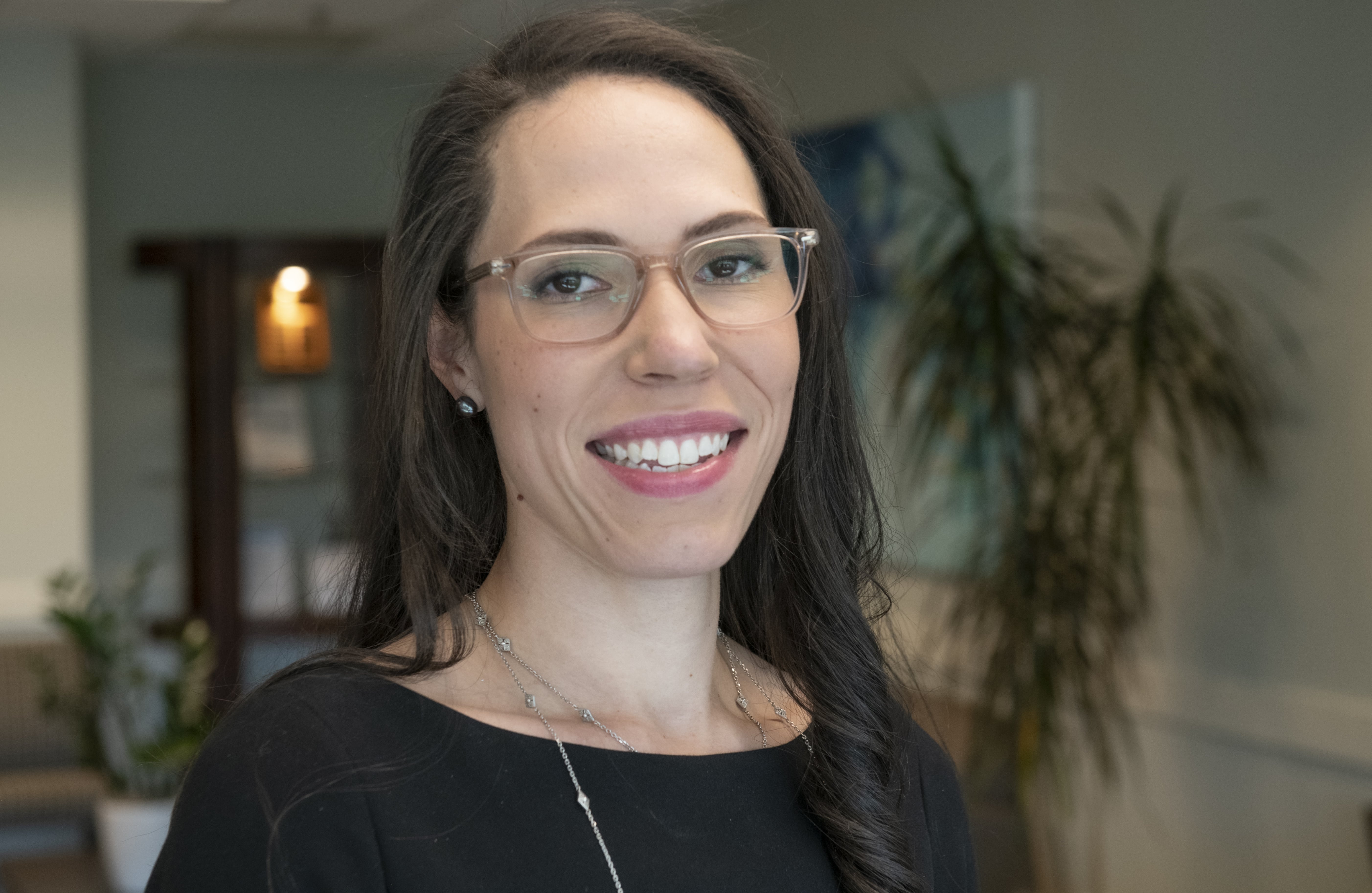 How Much Does an Executive Physical Cost?
Business executives lead busy lives. Every day, they balance their leadership role within the company with their personal life at home. They navigate a high-stress environment five days a week (if not more) and work long hours. It leaves them with little time to focus on their health.
Whether you're a business executive yourself, a benefits broker, or a human resources professional worried about your company's key person risk, figuring out how to balance busy schedules with preventive health is important to getting ahead of long-term health costs.
One way for you or your company to take an actionable, preventative approach? Executive physicals.
Specifically designed for those with busy schedules, executive physicals could identify potential health risks and vulnerabilities years in advance.
Is there a higher risk of a heart attack or stroke than previously thought?
Could a diabetes diagnosis be in the cards within the next few years?
How much is the stress of a busy schedule affecting one's health?
As an executive physical provider since 2003, we've worked with countless executives to deliver a complete picture of their health through our executive physical program. And just like with anything else, one common question we get is about price.
How much do executive physicals cost? Here's an overview of what you can expect.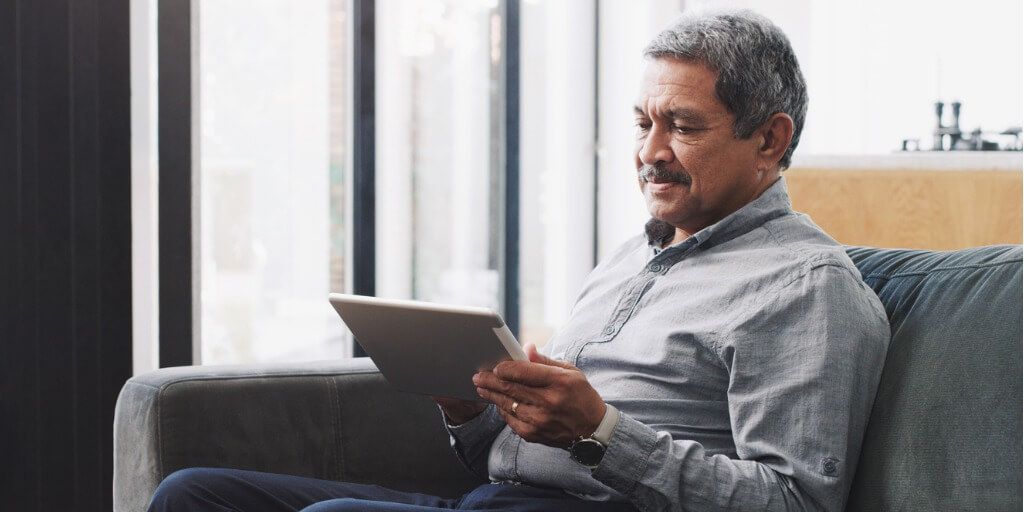 How much do executive physicals cost?
Like many things, the cost of an executive physical depends on the provider. There are several executive physical providers, from smaller, boutique options (like PartnerMD) to regional health systems and even mega-hospitals like the Mayo Clinic. They all obviously have their differences and one of them is cost.
Typically, executive physicals range from $1,000-$5,000, depending on how comprehensive the specific physical is. Here are a few general price ranges from a few executive physical providers:
Of course, you may see articles every now and then about $10,000 luxury physicals. A New York City health center offers one of those, for instance. However, in our experience, you can get a fantastic executive physical for far less than $10,000.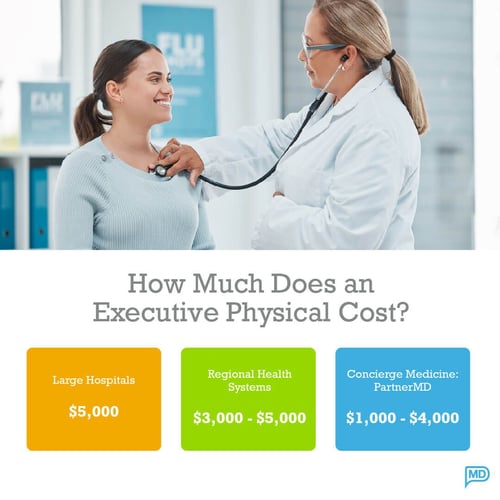 Share this Image On Your Site
How are executive physicals billed?
Executive physical programs are typically billed directly to the individual or their employer, and not processed through insurance.
Payment is collected at the time of service or billed to the company directly. Many companies also offer reimbursement programs for executive health and concierge medicine, sometimes through an HSA or FSA.
The cost of an executive physical is best considered an investment. An executive physical is an opportunity for you and your physician to identify health risks years before symptoms occur, so you can work together to make health improvements.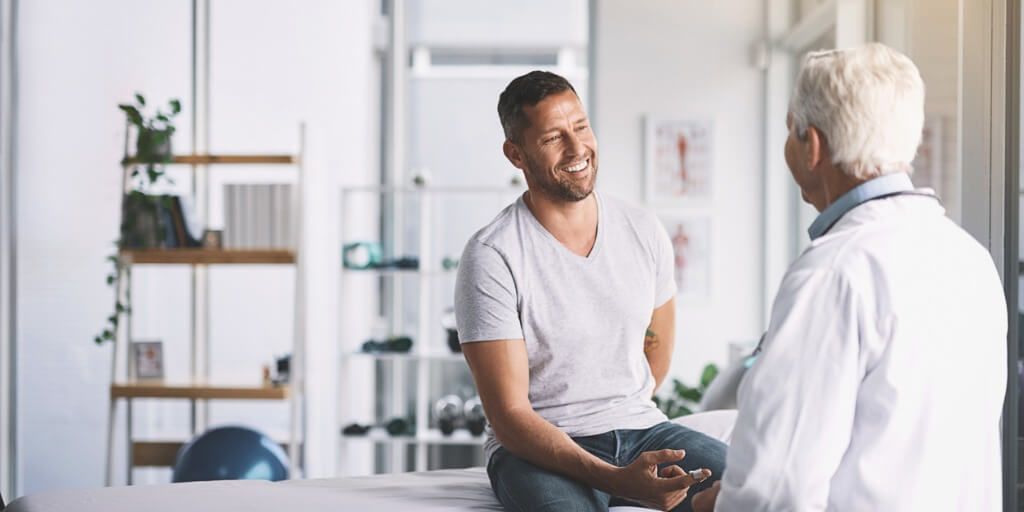 What is the ROI of an executive physical?
For an individual, the ramifications to an executive's long-term health are clear: Every dollar an executive spends proactively avoiding health care costs saves them many dollars in attempting to repair larger issues that could develop down the road.
For a business, there are four ways to measure the ROI of an executive physical program.
Recruitment and retention: Are you hiring better talent in part because of a comprehensive benefits package that includes executive physicals? Are you retaining your top talent for the same reason?
Long-term business risk: Your top employees deliver a lot of value for your company. By helping identify their health risks in advance, you reduce your company's key person risk.
Health insurance costs: If you're a self-insured employer, executive physicals can help prevent the kind of health problems that create large health insurance bills, such as heart disease and cancer.
Productivity: Healthier employees are not only happier, but they are also likely to be more productive in their roles.
Explore the benefits of executive physicals.
Though many executive health programs can be completed during a single day, some components of the overall process may need to be completed over the course of multiple days. Some may even involve travel depending on proximity to the necessary facilities, which can also play a role in the total cost.
Overall, an executive physical will save time and relieve the pressure and stress of scheduling. And the ability to identify hidden vulnerabilities while only having to schedule a single appointment is priceless.
To learn more about the benefits of an executive physical, download our free eBook: