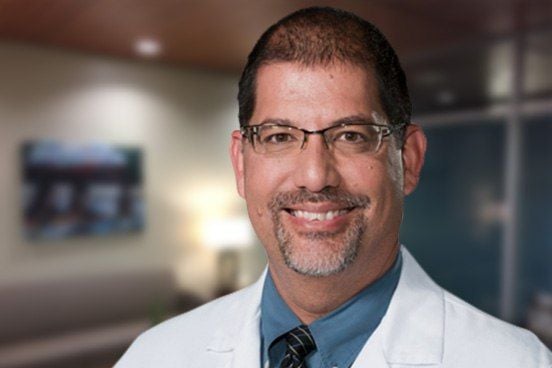 Executive Physicals: What Are They? Who Offers Them? Who Are They For?
Health and wellness is a focus for millions of people and countless companies. And if it wasn't before COVID, it sure is now.
A healthy workforce is not only a happy workforce but a productive one, too. Throughout the United States, companies are looking for ways to keep their most important employees at peak productivity.
One such solution is executive physicals. Sometimes these are known as executive health exams or corporate physicals.
As an executive physical provider for nearly 20 years, we've worked with numerous companies to help protect their employees, and their company, with executive physicals. Through this experience, we've answered just about every question possible, including:
What is an executive physical?
How much does an executive physical cost?
Who are executive physicals for?
Who offers executive physicals?
Who needs to have a deep understanding of executive physicals?
We're more than happy to help answer these questions, so you have the base of knowledge you need to move forward with selecting the right executive physical provider. Let's dive in.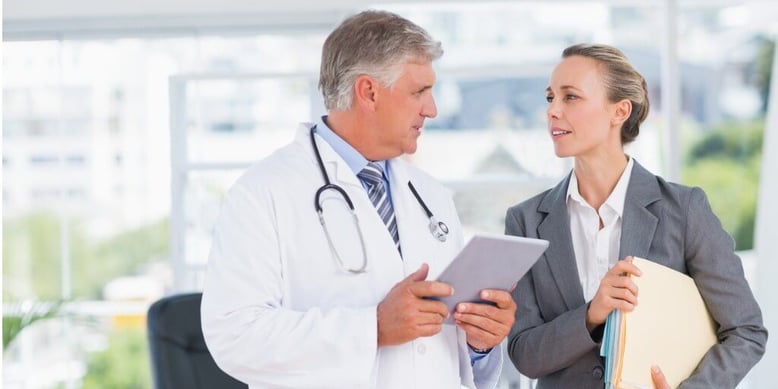 What is an executive physical?
Executive physicals refer to comprehensive annual physical exams designed for companies and their employees who are eligible for this benefit.
These physicals go well beyond the standard annual physical exam that is covered by health insurance plans and aim to identify health problems well before symptoms occur.
These programs typically begin with an in-depth health evaluation that includes advanced lab testing, advanced imaging and screenings, plus specialty consultations that can identify risks even before symptoms occur.
They typically last anywhere from a half-day to multiple days, depending on the provider, and focus on major health risk areas such as heart, vascular, and cancer risk.
Companies often provide executive physicals as part of their benefits package to key employees (or all employees). Executive physicals can help reduce a company's key person risk by helping identify health risks for key employees and can also help improve recruitment and retention efforts.
How much does an executive physical cost?
The cost of an executive physical typically ranges from $1,000 to $4,000 out-of-pocket at most places, although there are some luxury providers who offer a price tag of up to $10,000.
At PartnerMD, our executive physicals range from $1,000 for a Classic Physical to $4,000 for a Signature Physical. We transparently provide our pricing through our online executive physical cost calculator.
Information gathered from this thorough examination is compiled into a comprehensive package that creates an accurate understanding of the patient's health status and personal health risks, and helps the patient plot a course to optimal health and performance.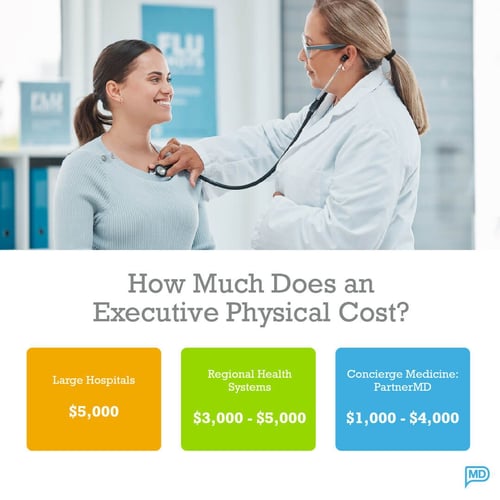 Who offers executive physicals?
Executive physicals are offered by three types of medical providers – large hospitals, regional health systems, and concierge medicine practices.
Large hospitals attract patients from all over the world. These are world-renowned facilities like the Mayo Clinic or the Cleveland Clinic.
Regional health systems tend to be the dominant healthcare provider within their region and draw their patients from that area. These include health systems like Emory in the Atlanta area, INOVA in Northern Virginia, and Johns Hopkins in Baltimore.
Concierge medicine practices are smaller and more locally focused but draw executives from several regions depending on what makes sense for the company.
Concierge practices see far fewer patients and offer a more intimate atmosphere when compared to the larger hospital systems, while still providing the benefits of an advanced executive physical exam.
Because they are smaller and nimbler, boutique providers can often customize the executive physical and the program much more than a large hospital.
Learn more about the differences between large hospitals, regional health systems, and boutique concierge medicine practices here.
Who are executive physicals for?
"Executive physical" can be a misleading name because access to this type of service is not limited to corporate executives.
Yes, most companies do get them for at least their CEO, if not the entire C-Suite, and it can often be a comfortable starting point when just dipping your toes into the world of executive physicals.
But executive physicals can be valuable for key employees further down the corporate ladder, too, including rising stars you want to retain and individual contributors with a unique skill set that is hard to recruit.
Maybe you are a small business with a pair of salespeople who generate most of your revenue. Having them out for an extended period due to a health issue could be devastating.
Or maybe your company has a key person risk problem and losing just one person with an indispensable skillset will severely limit the company. These are instances where the ROI of an executive physical can be particularly high, beyond protecting just the C-Suite.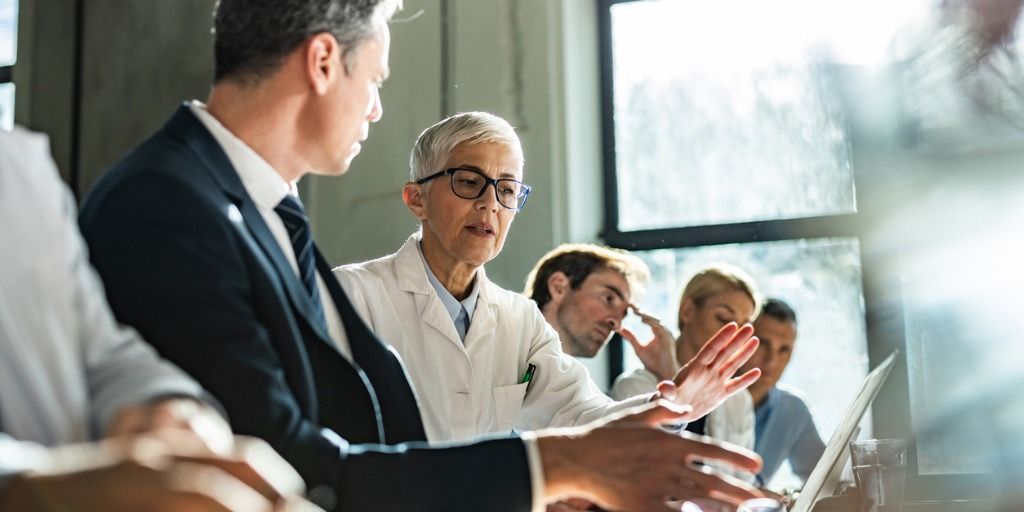 Who needs to know about executive physicals?
Typically, three groups of people need to know about executive physicals, and they vary based on job function and company type. These are the groups we often hear from looking for information on executive physicals.
C-Suite Executives: These executives are critical to the operations of the business and know it. The company will simply struggle to operate efficiently if they have a serious health event, and they know they need to do everything possible to protect themselves.


Chief Human Resource Officers (CHRO) & HR Directors: At mid-size to large companies, Chief Human Resource Officers and HR Directors are often given the leeway to build their benefits programs in ways they see fit.

Maybe the CEO and COO are too busy running the day-to-day of the company and give their top HR professional the authority to protect the company's people as needed.

They can often be tasked with keeping the most important people healthy, improving recruiting and retention efforts, and offering a top-notch benefits program that includes executive physicals.


Benefits Brokers: Companies rely on their benefits brokers to have a deep reservoir of knowledge about all the options on the table for their benefits packages. They want to keep their focus on their products and/or services and trust their broker to tailor their offerings in the most valuable and effective manner.

Sometimes, we hear from brokers shortly after a client called them asking "what are these executive physicals I read about?"

And other times, we hear from brokers after their client has asked them to expand their options beyond their current executive health provider because their participants aren't happy with the experience, they are looking to increase participation by offering more options, or maybe they just want a cheaper option.
Executive Physicals at PartnerMD: The Foundation of Executive Health
We offer the most customizable executive physicals on the market. With more than 30 options and three different levels, we customize your physicals to meet the needs of not only each individual but each company.
We serve clients from seven offices in Owings Mills, MD; McLean, VA; Richmond, VA; Midlothian, VA; Short Pump, VA; Greenville, SC; and Sandy Springs, GA.
In addition to an extended examination and consultation with a PartnerMD physician, other features of our executive physicals include:
Advanced labs, lipid panel, inflammation markers, and genetic testing from Cleveland HeartLab
Advanced imaging including a CT Heart Scan to know your exact calcium score
Assessments of cognitive function and emotional health particularly under stress and conflict
Multiple specialty consultations with physical therapists, dietitians, and certified health coaches
Ready to learn more about how executive physicals can benefit your company? Download our free guide to executive physicals today.