The Pros and Cons of Concierge Medicine for Patients
Healthcare in America is an imperfect system — complicated and seemingly concerned with a million things that aren't you, the patient.
Concierge medicine is a response to the status quo of long waits and doctors who feel like strangers. It's an alternative to traditional primary care.
But, as is often the case in life, the best solution to a bad problem is still imperfect.
Are we big believers in concierge care? Absolutely. But we also want to talk openly about its pros, but also its cons, so you're sure you're making the right healthcare choice for you.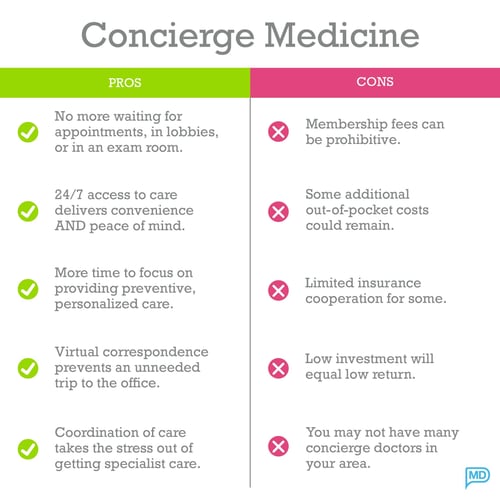 5 Pros of Concierge Medicine
1. More time with your doctor allows you to build a better doctor-patient relationship.
One of the biggest gripes with traditional primary care is the rushed appointment. You finally get to see your doctor and have 10 minutes, 15 if you're lucky, to discuss your health with them before they have to rush out to see the next patient.
It's not their fault. It's the system they're working in, as they have to care for 2,000+ patients and see 20-30 per day.
In concierge medicine, your doctor sees a total of 400-500 and 6-10 per day. You also get 30 minutes per appointment, no matter what. And because concierge appointments start and run on time, you'll get most of that time with your doctor.
The result? You build a trusted, deep relationship with your physician. They have the time to get to know you and understand your health and your goals, and they can address all your concerns in one office visit. It's the ultimate doctor-patient relationship.
2. No more waiting for appointments, in lobbies, or in an exam room.
Ever called your doctor trying to get an appointment and been told it'll be a few days? Maybe a few weeks? One recent study showed the average wait time to get a primary care appointment was 20 days. In some areas, patients waited an average of 44 days.
Ever shown up to a doctor's appointment and waited in the lobby for 20 minutes past your appointment time? And then maybe even waited another 10 minutes in the exam room? A study by Vitals determined patients wait for an average of 18 minutes and 13 seconds for a physician.
Concierge medicine removes these hassles. Most concierge practices guarantee same-day or next-day appointments for sick care and virtually no waiting at the office. You get appointments quickly, and your appointments start on time.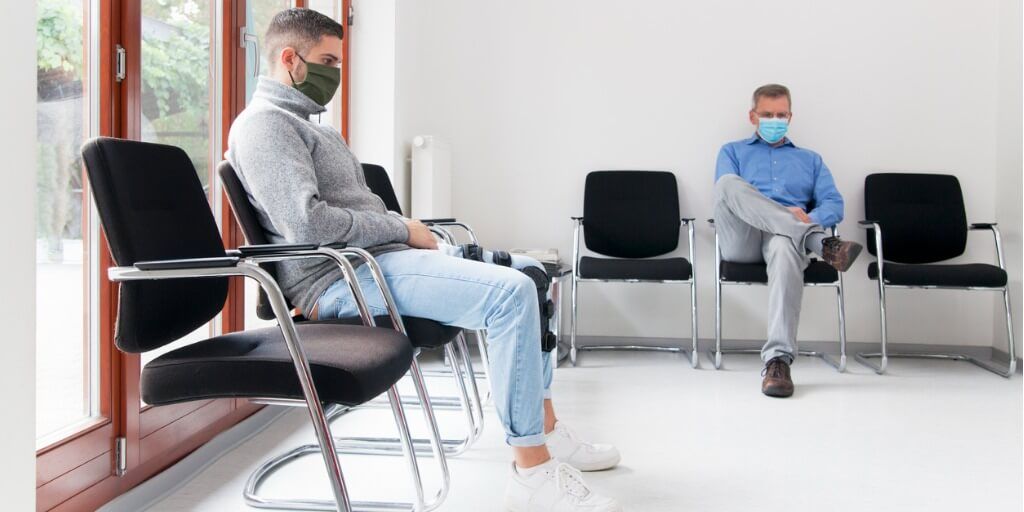 3. 24/7 access to care delivers convenience AND peace of mind.
No waiting and extra time with your physician don't stop at the doctor's office. Many concierge practices give you 24/7 access to care.
We're not talking about voicemails and long-delayed replies. We're talking about conversations, by phone or email, depending on the practice, regarding your health and treatment.
How does that affect you? Aside from being just remarkably convenient, you get the peace of mind that comes from knowing you'll get the care you need when you need it.
This peace of mind can be beneficial for your life whether you're the patient, a busy professional, a mom, or even a caretaker for aging parents.
4. Virtual correspondence prevents an unneeded trip to the office.
Speaking of calls and emails, that sort of communication can sometimes spare you a drive to the office. Concierge practices are generally good about handling simple matters that way when you prefer.
And since the COVID-19 pandemic, most practices have adopted telehealth so you can see your own doctor from the comfort of your home with a smartphone, tablet, or computer.
5. Coordination of specialist care takes the stress out of referrals.
We call it "quarterbacking" – streamlining a conversation among your doctors and specialists so that everyone's treatment cooperates in one healthy direction for you.
Some concierge practices – including PartnerMD – also assist you in scheduling any specialist appointments that you need to set. Instead of spending part of your day calling specialists hoping to get an appointment, your concierge practice takes care of that for you.
You get stress-free scheduling and the knowledge that any recommendations made by your specialist will get back to your primary care doctor, who can then evaluate the entire picture of your health.
Of course, there are other "pros" that vary from one practice to the next. But you get the idea — concierge medicine brings access and personalization that traditional practices rarely rival.
5 Cons of Concierge Medicine
1. Membership fees can be prohibitive.
There's no way around this one – the cost of concierge medicine can be prohibitive. We would love to see American healthcare change so that you get personalized, convenient care at no added cost.
Under the current system, though, concierge doctors offset costs by charging a membership fee.
This allows them to drastically reduce the size of their panel – from 2,000-3,000 to 400-600 – so they can eliminate waiting, guarantee same-day or next-day appointments, offer longer appointment times, provide round-the-clock care, and more.
2. Some additional out-of-pocket costs remain (but they could be covered through health insurance).
Concierge membership is not a complete substitute for health insurance. Expect the same out-of-pocket expenses for specialist consultations, prescriptions, and hospital visits that you would with a traditional primary care doctor.
Your health insurance will likely work the same with concierge medicine as it does with traditional primary care, covering some of these expenses. This means you will want to make sure your insurance plan matches your anticipated level of need in these areas.
Of note, an HSA or FSA can often help offset the cost of your membership.
3. Limited insurance cooperation for some.
To be clear, most concierge practices do accept insurance from many insurance carriers — not for membership but for treatment. That said, some practices accept fewer carriers than a traditional practice might, and many concierge offices aren't working with Medicare or Tricare.
PartnerMD accepts most major insurance carriers and Medicare. We do not accept Tricare or Medicaid.
4. Low investment will equal low return.
This point could go on the "pro" list, depending on your mentality, but a concierge membership makes the most sense for people who want to see their doctors. If you're not going to make use of your membership perks, then you're letting your investment go to waste.
We call it "re-learning" how to use concierge primary care. For so long, you've thought of going to the doctor as a hassle. But with concierge care, it's not. You must be willing to take advantage of what you're paying for. It's one of the common challenges concierge patients face.
5. You may not have many concierge doctors in your area.
While concierge medicine is gaining popularity, there's still a chance, depending on where you live, that your nearby options are limited.
If you're in an area where concierge options are scarce, then it's also possible that those doctors are maxed out for their client slots and unable to see new patients.
Considering Concierge Medicine? Download our free guide.
We believe you can have a better healthcare experience by choosing concierge care, but you should understand the system's fees and limitations.
Carefully researching the overall industry and your local physician helps you set your expectations well. Reading this article and others like it is a great sign that you're an informed consumer.
Want to know more about the features of concierge care? Want more questions to consider as you look to join a concierge practice?
We're here to help. Download our free guide to Understanding Concierge Medicine to learn more.