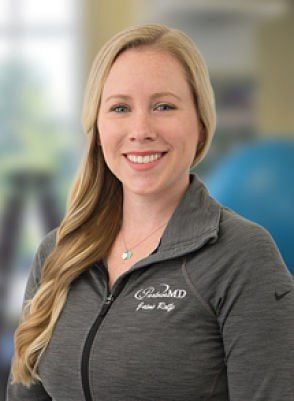 OptimizePMD: 10 Yoga Ball Exercises for Your Core
In the final part of this three-part series, Midlothian, VA, health coach Jaime Monsen demonstrates yoga ball exercises designed to strengthen your core. Follow along as she teaches each exercise in the video below and read on for the full list of exercises she recommends.
Be sure to check out the rest of the series as well.
Yoga Ball Exercises to Strengthen Your Core
Crunch
Right and Left Oblique
Overhead Crunch
Rotation with Ball
Plank

Feet on ball – Further out the harder
Hands on ball – Forearms or palms

Reverse Crunch

Plank position, pull knees to chest or V up

Ball reverse crunch

On back with ball b/w knees

Ball pass

Hands only
Legs only
Advance Pass from hands to legs

Superman
Glute Bridge

Further the ball is out the harder
About OptimizePMD

OptimizePMD is a new wellness program under development at PartnerMD. By emphasizing various exercise strategies and explaining the science behind them, OptimizePMD will help participants achieve and maintain optimal physical performance at all stages of life. Check out more OptimizePMD content here. More information coming soon!